Flower Powered Recipes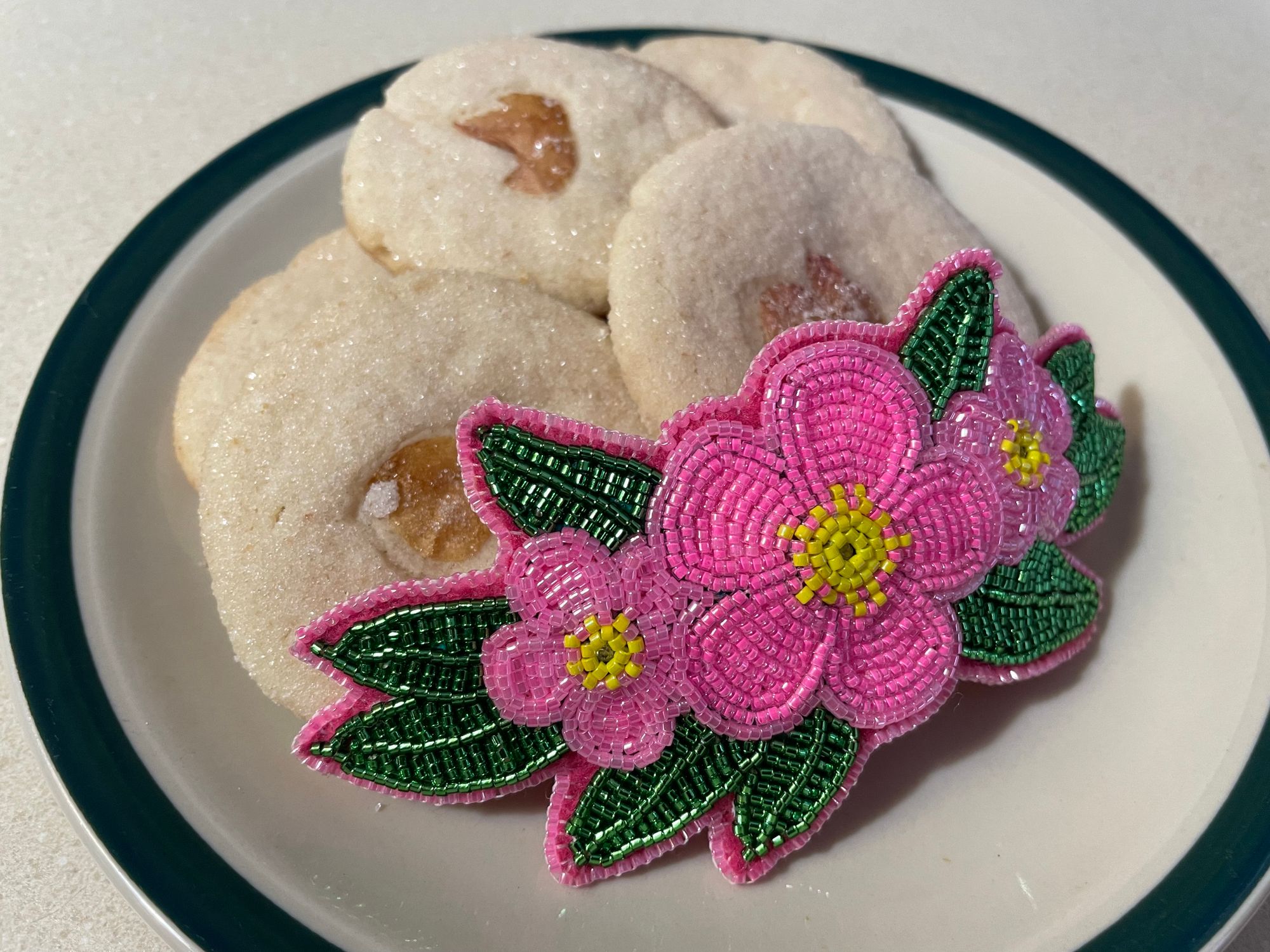 A certain day is coming up next week, so we thought we would give you some ideas for some flower based foods.  From a simple bubbly drink to a full floral pasta, make it a special day whether it's to treat your wonderful self or share with someone else in your life.
Resources:
Rose Hips Episode (with Rose Hip Syrup Recipe) - https://youtu.be/F2em8zTyy64
Rose Cardamom Latte (alternate floral drink recipe) - https://youtu.be/GECt44hwTfg
Affiliate Links (get what you need & help the channel):
Marcato Atlas Pasta Machine, Made in Italy, Silver - https://amzn.to/3Lml9jT
Electric Motor for Marcato Pasta Machine - https://amzn.to/339QdSJ
Marcato Pasta Drying Rack - https://amzn.to/3LkAvoV
Other Items:
Lovely Beaded Wild Rose Barrette by Shannon Fineday
---
Fizzy Floral Drink
Sparkling Water
Rose Hip Syrup
(or whatever inspires you, you could check out our snow treats video for other ideas & simple syrup how-to)
Add 1 Tbsp (or so) of syrup to your glass, then fill with sparkling water.  
Mix well and you've got yourself the perfect drink for your evening.
Laminated Flower Pasta
Note: Can be done by hand, will give you more muscle!
Dough:
300 grams (~ 2 1/2 cups) flour
3 eggs, room temperature
Knead the dough or outsource to your electronic bud for about 10 minutes.  If the dough seems too dry, you can add 1 tsp of water at time as needed. You want it to form a ball.
Then wrap the dough in plastic or beeswax and let it rest for 30-60 minutes.  If you want to store it longer, make sure it's well wrapped and put it in the refrigerator for up to 1 day.
Laminating:
When you're ready, divide the dough into 4 quarters. Take one out to work with & re-wrap the remaining three.
Flatten the dough between your palms into a rectangular shape.  Run this through the thickest setting on your pasta maker.  Then fold the dough into thirds and run it through again on the same setting.  Then once more without folding the dough.
Increase your setting by one, and run the dough through again twice.  Repeat this process two more times, putting the dough through twice on each setting.
Dust a clean work surface with semolina flour to keep the dough from sticking. Semolina is a type of coarse flour that is made from durum wheat. Lay the sheet of dough on your surface, and sprinkle with your edible flowers (or herbs) over half the area. Fold the other half of the dough over top.
Reset your pasta maker to its third thickest setting and run the dough through twice.  Raise to the next setting and run it through another two times.  Repeat on the next setting.
Set the dough on a baking sheet that has a sheet of parchment dusted with semolina.
Repeat the step with your remaining dough pieces.
Now admire your gorgeous work!!
Cutting noodles:
Dust your work surface with semolina flour and lay down one sheet of pasta dough.  Generously dust with semolina flour and fold it in half but don't press down.  Repeat, folding in the same direction.  Dust again and use a sharp knife to cut your folded sheet into strips.  Unfold the strips and hang them to dry or lay them back on a parchment lined baking sheet dusted with semolina.
Repeat this with all your sheets.  Let the noodles dry for about 30 minutes & then your pasta is ready to cook!  Or if you're prepping in advance, you can store them in the fridge for up to a week, or freeze on a baking sheet for 30 minutes and then transfer to a freezer bag, they can keep frozen for up to 6 months.
Cauliflower Garlic Mushroom Sauce
Mushrooms, sliced (dried or fresh)
4 garlic cloves, minced
3 cups water or broth
3 cups cauliflower, chopped
1/2 tsp salt
1/2 tsp pepper
1/4 milk
Saute mushrooms. Set aside.
Saute garlic in butter until fragrant & soft. Set aside.
In a pot, bring water/broth to a boil.
Add chopped cauliflower, and cook until tender (~7 to 10 min). Do NOT drain.
Using a slotted utensil, transfer cooked cauliflower to blender.  Add 1 cup of the liquid from the pot, the sautéed garlic & mushrooms, salt, pepper, and milk.
Blend until the sauce is very smooth, adding more broth or milk depending on how thick you want the sauce.
Flower Pasta
Bring a large pot of salted water to a rolling boil.
Add your noodles and cook, stirring occasionally to keep them from sticking to each other.  Cook until it is nearly done, should be about 5 to 6 minutes.  Then drain.
Arrange on a plate, and top with sauce and garnishes. More flower petals?
Rose Petal Cookies
Bonus recipe because a friend still swears these are the best cookies she's ever had.
Ingredients:
24 rose petals (dried or fresh)
1/2 cup rose petals, dried
3/4 sugar, superfine (blender can make granulated sugar into superfine)
1 cup butter
2 Tbsp milk
1 tsp rose water
2 cups flour
1/2 tsp salt
2 Tbsp granulated sugar
We start with 24 rose petals.  If you are using dried ones, you'll want to gently re-hydrate them by placing them between two lightly damp towels for around 30 minutes.
Then take 1/2 cup of dried rose petals and grind them into rose dust.
To make our dough, mix together your superfine sugar and butter until it is pale & fluffy.  This should take about 3 minutes.  (If you don't have superfine sugar on hand, just run some regular granulated sugar through the blender until it's suppa fine.)
Add in milk, rose water, and your rose dust.  Beat for another 30 seconds.
In a separate bowl, mix together flour, and salt. Add the flour mixture to the wet mixture, and beat until a stiff dough forms.  About 2 minutes.  It should hold together when squeezed in your hand.
Form 24 balls from the dough.
Spread granulated sugar onto a shallow dish.  If you have fresh petals, simply lay them on the sugar.  If you are using re-hydrated ones you will likely have to massage them open with your finger tips before laying them on the sugar.
Place a ball of dough on to pot each petal.  Use a flat object, like the bottom of a glass to press the dough into a disc soap.  Lift the cookie out of the sugar, turn it over & then place on a parchment lined baking sheet. Repeat until sheet is full.
Place sheet in the refrigerator for at least 10 minutes to chill while working on the remaining cookies.
Bake cookies for 15 minutes at 300F or until they turn golden on the edges. Allow to cool for 1 minute on the sheet and then transfer to a cooling rack.
Enjoy!
And if that's not enough floral fun for you, check out last week's Rose Cardamom Latte.