Rose Cardamom Latte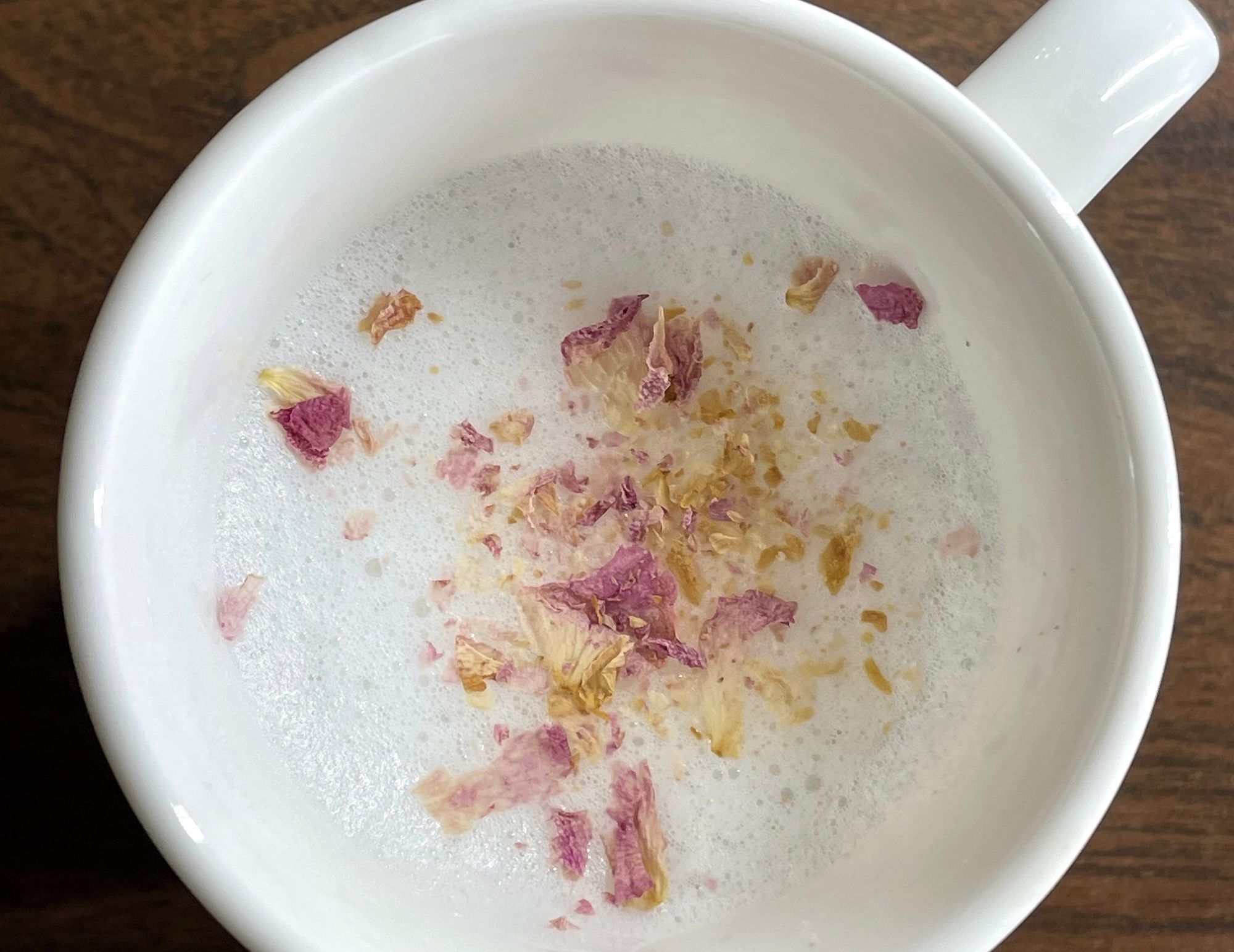 I am currently wrapping up the Foraging course with the Chestnut School of Herbal Medicine, and in the wild rose section they describe the flowers as having an uplifting and comforting fragrance. They also feel that rose can impart a desire to live fully to those who are feeling depressed.
While expanding my knowledge about our friend Rose, I started thinking about how much I enjoy them and that we all needed a rose recipe in our lives.  And since tea is a comforting and simple drink, that seemed to be the place to start.  So why don't you join me in brewing up a delicious, uplifting cup of comfort.
---
2 Tbsp rose petals
4 Cardamom pods
2 cups water
1 cup milk, warmed
Options:
1/2 tsp rose water (per cup)
Honey (or sweetener of choice)
Food coloring or beet root powder
Petals to garnish
Serves 2 (large mugs)
Add 2 Tbsp of rose petals, and 4 cardamom pods and steep them in 2 cups of water.  This will be enough to share, but you can reduce the amounts if you just want to make a single cup.
To the cup you can add rose water, a little local honey (or your sweetener of choice), or even a bit of color to take your latte to the next level.
Fill cup 1/2 way with the brewed tea, and then top it up with warm milk or your favourite milk alternative. Stir &/or froth as desired.  
Garnish with a few crushed petals if you're feeling fancy or trying to impress someone.
---
Resources:
Chestnut School of Herbal Medicine (@chestnutschoolherbs) - www.chestnutherbs.com
Buffalo Charlie (@buffalocharlie) - www.buffalocharlie.com
Can be purchased in-person at:
Spiritwood Artisan Boutique (@spiritwoodartisan) in Spiritwood, SK
Health Essentials (@healthessentials) in Victoria, BC
Designer's Edge Salon & Gift Shop (@desalonhairgift) in Shellbrook, SK
The Twisted Toolbox (@twistedtoolbox) in Big River, SK
Western Development Museum (@wdm) in North Battleford, SK
Affiliate Links:
Hario Brown Frother - https://amzn.to/3GlvPeX
Breville Intelligent Tea Maker - https://amzn.to/3IWQYxy