Rose Hip Recipes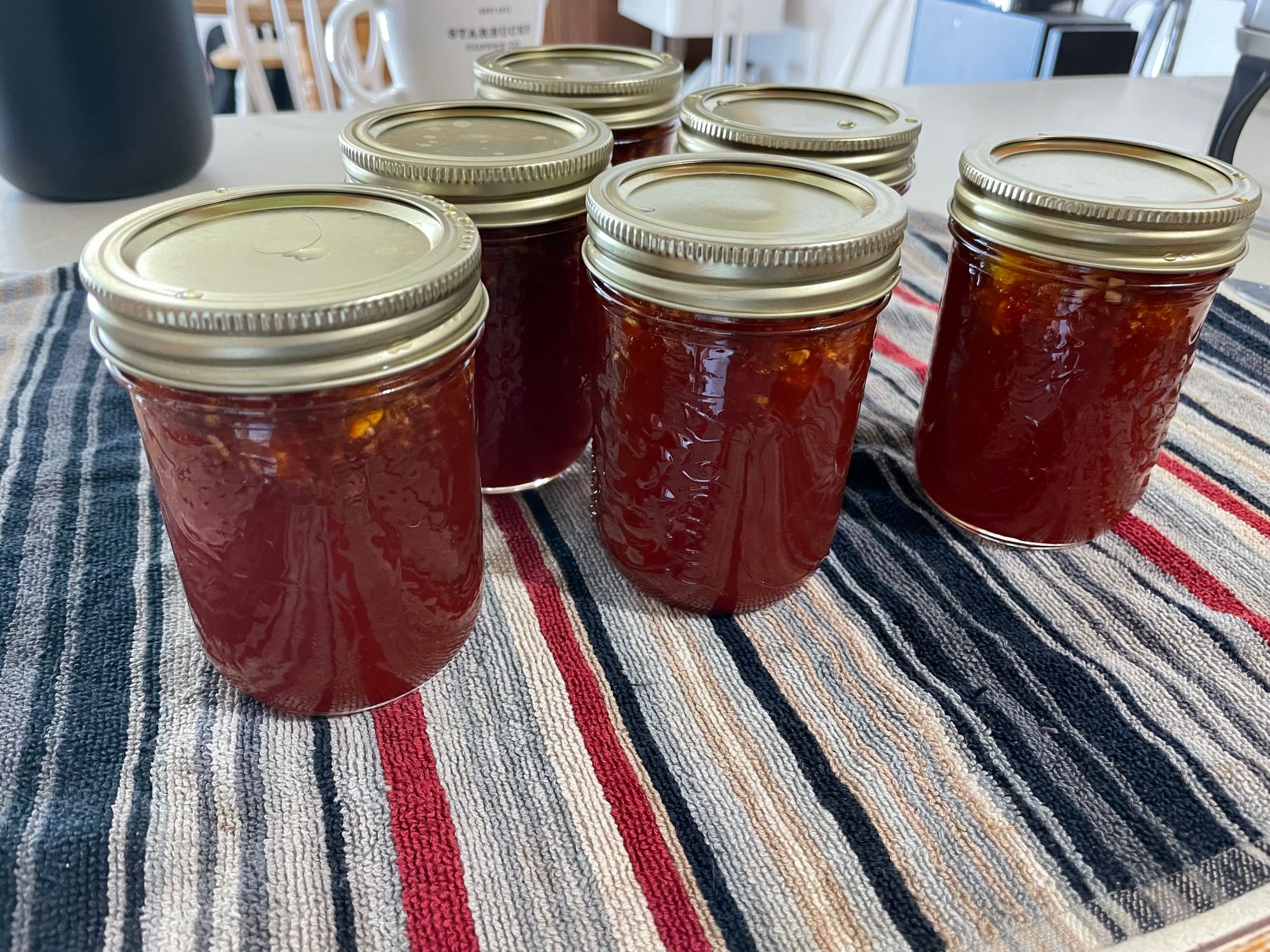 Learn about one of the best edibles for a procrastinating forager, and then learn several different ways to use them from a simple vinegar to a gift worthy marmalade.
It's hip to eat rose hips, and they are packed with nutrition too!
Rose Hip Vinegar
You will need:
Rosehips
White Wine Vinegar
Citrus Fruits
Wooden Skewers
Clear Decorative Bottle, sterilized
Give the rose hips a bit of acupuncture so the goodness leaks out.
Make sure your citrus peels have been given a good scrub beforehand, then peel & remove as much pith (that white stuff) as possible. Cut into pieces. Save the fruit/juice for another recipe.
Thread your rose hips & peels onto a skewer making a mini kebab.
Place the skewer into your bottle
Fill the bottle with white wine vinegar making sure that the fruit is completely covered.
Close bottle (securely) & shake.
Place in a dark location for 2 weeks.
After 2 weeks, you can remove the skewer. Or if you prefer to keep your pretty skewer in the bottle, you must make sure that the fruit is always covered by vinegar. Otherwise spoilage may occur.
---
Rosehip Syrup
1/2 cup fresh rose hips or 1/4 cup dried rose hips
1 cup water
1/2 cup local honey (support your local bees & their keepers!)
If you haven't already, prep your hips by removing any stems, leaves, and brown flower bits. (Fun Fact: The flower bit is called a calyx)
Then place the rose hips in a food processor and pulse several times to break them into smaller pieces. You can skip this step if you are using dried rose hip pieces.
Add the rose hips and water into a small pot and bring to a boil. Then simmer for 15-20 minutes on medium-low, or until the water has reduced by about half.
Turn the heat off, let the liquid steep and use a potato masher to squish out the juicy goodness.
Strain the liquid 2 to 3 times with a jelly bag, a coffee filter, or a fine mesh strainer lined with layers of cheese cloth.
Once the liquid has cooled to room temperature, stir in the honey.
Store your syrup in the refrigerator for up to 6 months or freeze for longer storage.
---
Rose Hip Tea
Add 1 tsp of dried rose hips per cup
Pour hot water into cup
Infuse for 5-10 minutes
Strain thoroughly
And Enjoy :)
---
Rose Hip Marmalade
8 cups rose hips
6 cups apple juice
1/2 cup lemon juice
1 pkg pectin (2 oz/57g)
1/4 tsp butter
5 cups sugar
1 large orange, peeled & cubed
1 cup rose hips, de-seeded
1 medium apple, peeled & grated
In a large pot, combine rose hips with juice and bring to a boil
Reduce heat & simmer, covered for 1 hour or until the hips are soft.
Mash with a potato masher.
To remove seeds, strain twice through a jelly bag or fine mesh strainer.
Add your remaining ingredients, and bring to a slow boil until the mixture thickens.
Pour into sterilized jars and process.
Makes about 6 cups (1.5 L).  Any excess can be used for quality testing. ;)