Beet Green Soup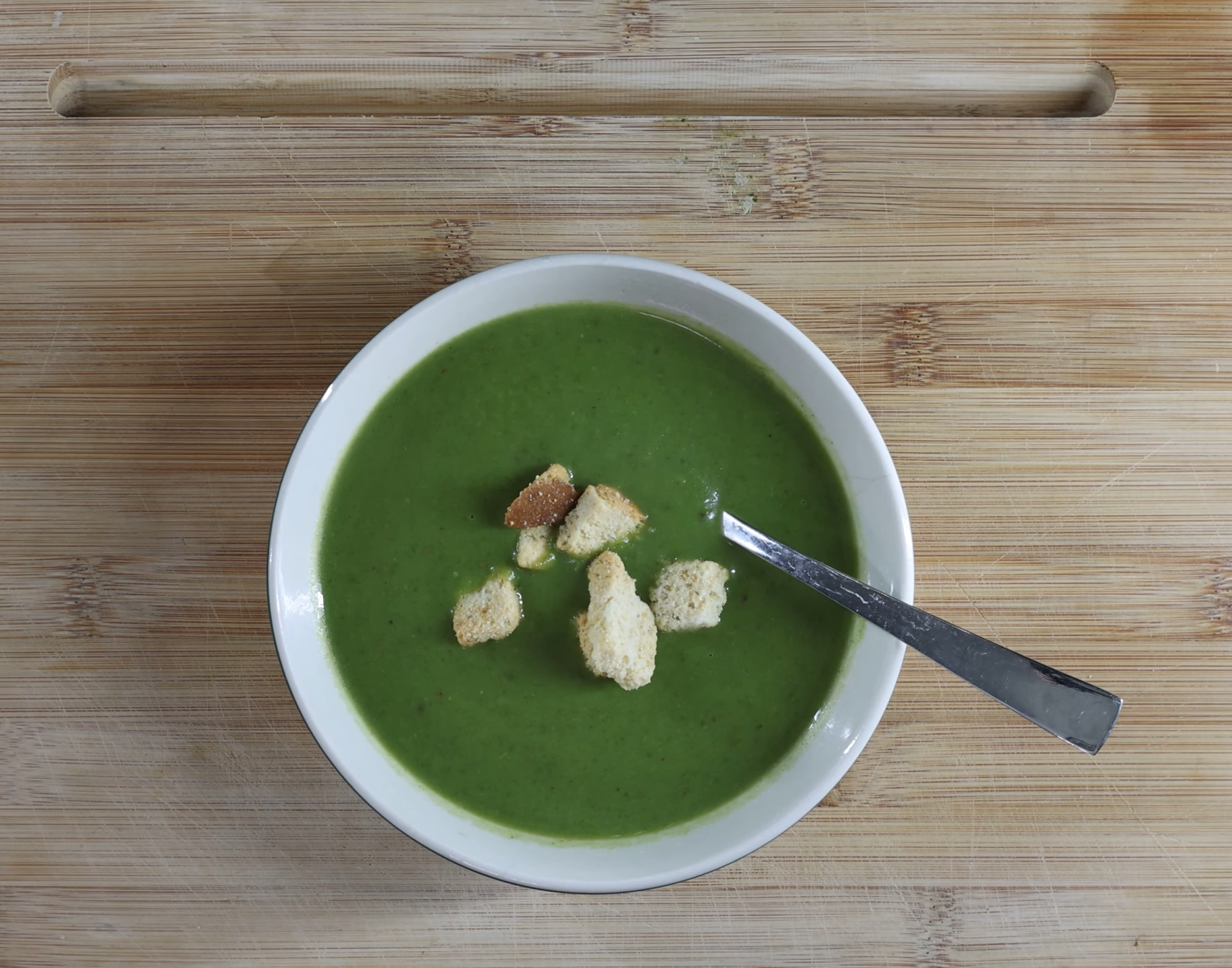 Marvel at your gardening efficiency, and turn those beet greens into tasty soup!
Beet greens are an edible that should not be wasted.  The recipe below is one way that you can use them to stretch your garden harvest even further.  The soup can also been frozen for a later, so you can still enjoy a bit of summer on a cold winter day.
Ingredients:
Beet greens, 1 bunch (6-8 cups of torn leaves)
1 onion
1/2 cup butter
1/2 tsp salt
1 tsp paprika
2 potatoes
4-6 cubes (or tsp) chicken bouillon
Milk or cream (optional)
Croutons &/or Parmesan cheese (optional garnishes)
Directions:
Wash beet leaves
Tear off tender leaves and collect in a bowl. About 6-8 cups of leaves but this isn't a fussy recipe.  

(Pro Tip: Save & freeze the green stems to make a homemade stock/broth later!)
Cut up one onion
Melt butter in a large pot
Add onion and cook on medium heat
Once onions are soft, cook beet greens with the onions on medium heat until they become soft
Add 1/2 tsp salt, 1 tsp paprika
Cut 2 potatoes into small chunks (I like to leave the skins on for better nutritional value)
Fill another pot with water (5-6 cups). Add chicken bouillon & potatoes. On high heat, bring it to a boil.
Add cooked potatoes & liquid to your large pot with the cooked down beet greens
Blend with stick blender until even consistency reached.  If you don't have a stick blender, you can use an upright blender but be very careful when handling hot liquids.
Add milk or cream as desired
Bonus: Serve with croutons &/or Parmesan cheese to make it fancy
Note: This is a very forgiving recipe so don't worry too much about amounts.  And if you're comfortable in the kitchen, you can start cooking your potatoes (pot #2) while your beet greens are cooking (pot #1) to be more time efficient.