Deadly Berry or Tasty Treat?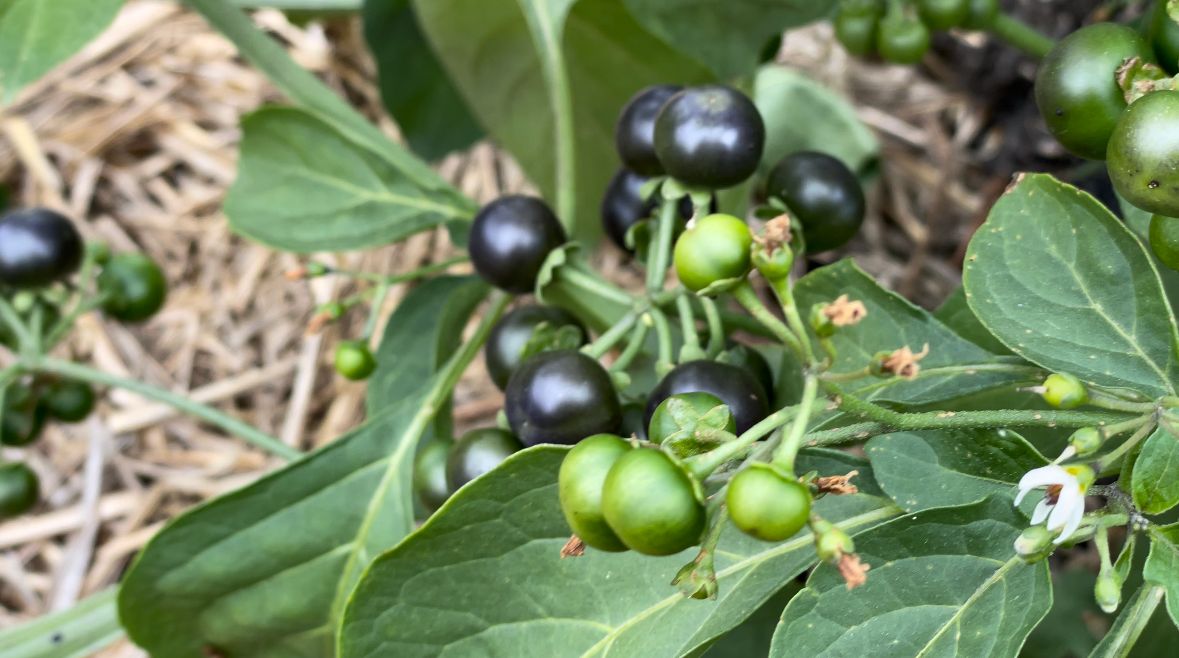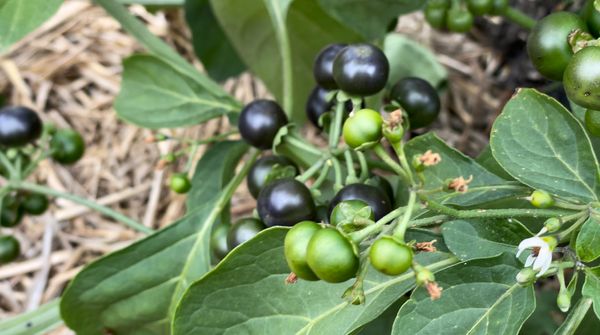 Garden huckleberry (Solanum nigrum var. melanocerasum) is a member of the Nightshade (Solanaceae) family and a close relative of the common nightshade (Solanum nigrum). Common nightshade is also called black nightshade, poisonberry, garden nightshade, and sometimes deadly nightshade. Yet "Garden Huckleberry" has no relation to true huckleberries!
Eating green (unripe) berries may cause headache, nausea and mild stomach upset.
But ripe black berries (and the young leaves) on the other hand are considered delicious and commonly eaten by billions of people. The poisonous reputation is false. All ripe black nightshades are edible.
Atropa belladonna is the true "deadly nightshade". But it is easily recognized by it's single berries (rather than clusters), large calyce, and shiny (rather than matte) fruit. But it also doesn't seem to have much range in North America. However, it is always a good idea to familiarize yourself with the poisonous plants in your home area.
More Resources:
Deadly Nightshade? (Sam Thayer)
Black Nightshade (Alexis Nikole)
Black nightshade vs deadly nightshade
Get Seeds from West Coast Seeds
---
Rustic Nightshade Tarts
2 cups flour
1/3 cup sugar + 1 Tbsp sugar
1/2 tsp salt
1 cup cold butter, cubed
1/4-1/2 cup water, ice cold
1 cup black nightshade berries
1 1/2 Tbsp lemon juice
2 Tbsp chia seeds
Combine flour, sugar, and salt into a bowl.  
Work in the butter until you have pea shaped clumps. Use a pastry cutter if you have one.
Add 1 Tbsp of water at a time, until you get a smooth dough.  Shape into a ball and chill while making your filling.
Mash together the nightshade berries, lemon juice, 1 Tbsp of sugar and chia seeds. Let the mixture sit until thickened.
Place the dough on a floured surface and roll out. Cut into squares.
Scoop a spoonful of berry filling into the centre of each dough square.  Pinch the two opposite corners together, leaving the other sides open.
Bake at 350F (180C) for 15 minutes in the oven or until golden brown.