Dock Seed Crackers & Brownies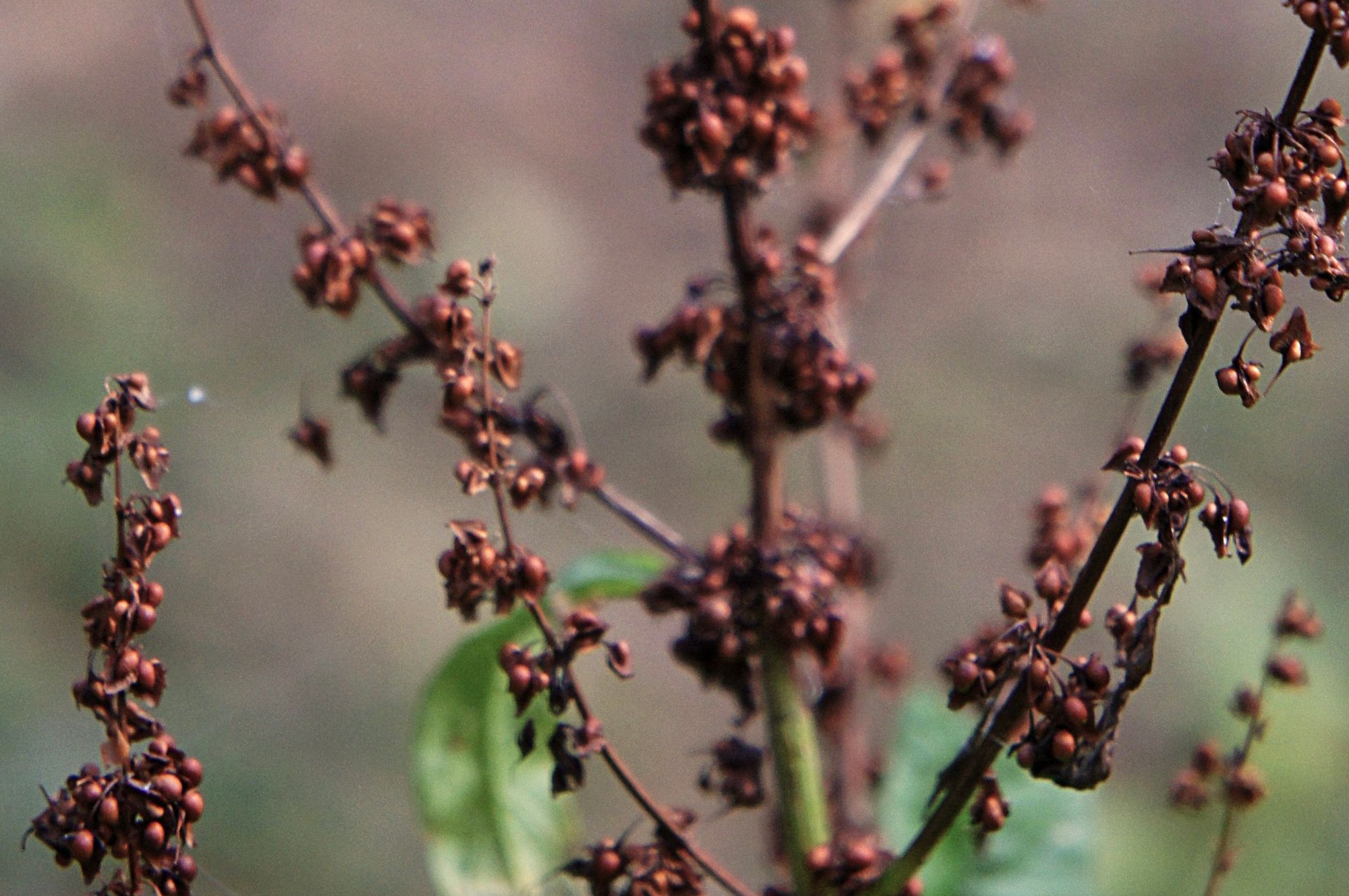 Dock is easy to find with its tall, dark, & handsome seeded stalks that tend to stick out from the surrounding vegetation. It's found in moist disturbed areas such as ditches, and in the fall they are easy to spot as you drive along.
Now you have a fun new plant to ID on your next road trip, but there's more!  Dock also makes an easy, gluten-free flour to use in your baked goods.
In the Fall, dock is loaded with seeds. These seeds are encased in a husk which you could spend your time separating but the simplest way to use them is to roast and then grind the whole package.
Dock Seed Flour
Spread a single layer of seeds onto a baking sheet
Roast at 350F for 5 minutes
Grind with your fav device (blender, coffee grinder, mortar & pestle)
---
Dock Seed Crackers
3/4 cup dock seed flour
1/2 cup whole wheat flour
1/2 tsp salt
1 cup sourdough starter
4 Tbsp butter, room temperature
Oil, for brushing
Coarse salts, for topping
Fresh or dried herbs, for toppings (optional)

Combine flours, salt, sourdough starter, and butter into a large mixing bowl.
Knead the ingredients together until a smooth dough forms.
Place dough onto lightly floured parchment & shape into a rectangle. Cover with another sheet of parchment & chill in the fridge for 2-4 hours.
Go do something nice while you wait, you deserve a break!
Place chilled dough onto lightly floured work surface.
Roll out to 1/8" to 1/4" thick.
Lightly brush with oil and sprinkle on desired toppings.
Cut into cracker sized pieces and arrange on a parchment lined baking sheet, close together but not touching each other.
Bake at 400F for 12-15 minutes.
---
Dock Seed Brownies
1 cup butter softened
1/2 cup maple syrup
1/2 cup packed brown sugar
2 teaspoons vanilla
3 large eggs room temperature
1/2 cup dock seed flour
1/4 cup all purpose flour
3/4 cups cocoa powder
1 teaspoon salt
1 cup chocolate chips
Grease your baking pan
Cream butter, maple syrup, sugar and vanilla.
Add eggs and beat on high speed for 5 minutes.
Combine flour, cocoa, and salt.
Add to egg mixture and beat on low until just blended.
Fold in chocolate chips.
Spread the batter into the prepared pan.
Bake for 30-40 minutes at 350F or until a toothpick inserted in the center comes out clean.
Cool, cut & nom nom nom!